From the perspectives of most foreign tourist, Ho Chi Minh City, or like people sometimes call Saigon, is a chaotic, lively and modern city. They can see this by looking some images of skyscrapers, crowded traffic jam, tasty street foods or sleepless nights. However, it also contains many touches from the historical period lying behind the narrow streets and modern buildings.
And coming to some museums can assist you to know more about the whole story of this historical city. Their heroic sites can strongly remind you the cruelty of war together with many sacrifices of guerrillas. This article shows the famous museums in Ho Chi Minh City (war, art and history) you should come to when exploring the old periods of Vietnam.
War Remnants Museum
Most Vietnamese people have witnessed numerous scars the war left in this country. By visiting this war museum, you can likely turn your usual trip into a remarkable and memorable visit. Opening since September 1975 right after the finish of war in Vietnam, it should definitely lie in your list of highest priorities. In reality, this museum typically displays some evidence about the period of American invasions like photographs, materials, documents or artifacts.
These existences are essential for educating people, especially the youth, raising their awareness and bravery to struggle for freedom and independence in Vietnam. Containing around 500,000 tourists coming to every year, this museum becomes one of the most interesting destinations both foreigners and locals want to visit.
Opening Time: Between 7.30 AM and 12 AM together with 1.30 PM and 5 PM each day
Address: 28 Vo Van Tan St, District 3, Ho Chi Minh City, Vietnam
Entrance Cost: around VND 10,000 each person
Museum of Vietnamese History
Located near both Botanical Gardens and Saigon Zoo, this museum is worth for you spending time on because of its sophisticated architecture, various collection, and convenient location. Built in 1929 and influenced by both Asiatic and French cultures, the building inside together with its surrounding gardens will bring you to an exceptional atmosphere and go away the bustling life in Ho Chi Minh City.
The most noticeable and highlighted point in this place is a wide range of collection that can completely cover the whole Vietnamese history from the Period of Prehistory to the glorious Bronze Age, also called Dong Son Empire. In addition to, it also has some artifacts coming from the Khmer and Cham civilizations.
Understanding what tourists need, this museum cooperates frequently with many agencies in order to preserve, collect and display some antiques. Moreover, when visiting in the special days, you can totally enjoy the interesting performance of water puppets, a famous traditional art in Vietnam.
Opening Time: between 8 AM and 11 AM together with 1.30 PM and 4.30 PM Everyday not including Monday.
Address: 25/2 Nguyen Binh Khiem St, District 1, Ho Chi Minh City, Vietnam
Entrance Cost: around VND15,000 each person
Fine Arts Museum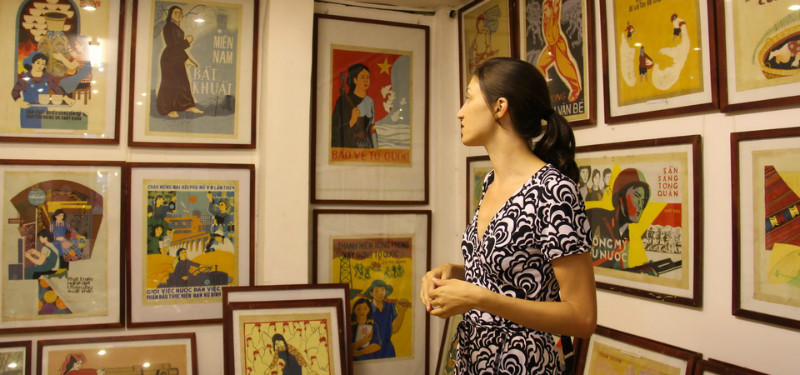 Many people here consider this place as the biggest museum in Ho Chi Minh City. Fine Arts Museum displays both international and contemporary Vietnamese art. Officially opening since September 1987, this place has become famous because of a white and yellow colonial building. In reality, this art museum contains 3 main floors for exhibitions. The first and second floors display lots of paintings of both international and prominent Vietnamese artists. Whereas, the remain is a place of pictures created from the 7th to the beginning period of 20th centuries. Moreover, you can totally widen your vision and knowledge when enjoying the exhibition of traditionally old artworks coming from lots of Vietnamese regions.
Opening Times: between 9 AM and 5 PM Everyday except Monday
Location: 97A Pho Duc Chinh St, District 1, Ho Chi Minh City, Vietnam
Entrance Cost: VND10,000 per adult and VND3,000 per child